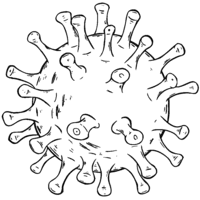 Covid19 Field and Complex Point
If your not feeling well please stay home
Fans should attempt to keep six feet
of social distancing between other fans
Players and coaches should attempt to be six feet apart.
Coaches talking with umpires should attempt to keep six feet apart.
Use of dugouts is permitted during games only. Coaches should help
players have designated spots to place their personal items.
The team to play next must remain in their warm up area until the prior team is completely out of the dugout.
Fans for upcoming games must not enter player areas, and must keep six-feet or more distance from the backstop.
No spitting or eating seeds, gum, or other similar products.
Players should use their own gloves, helmets, and bats as much as possible.
Shared equipment must be sanitized before and after each game.
No touch rule – players should refrain from high fives, handshake lines, and other physical contact with teammates, opposing players, coaches, umpires, and fans. A "tip the cap" can be used following the game in lieu of the handshake line.
No post-game talks at the field are permitted. Fans and players must leave the playing area and return to their cars promptly after the game.
Masks are required for those not playing during the games.
Masks are required for players before and after the games.
Disclaimer:
SEV Baseball Board of Directors are not responsible for these rules not being followed.
SEV Baseball Board of Directors will attempt to enforce the rules to the best of their abilities.
SEV Baseball Board of Directors are not responsible for the contraction of COVID-19
Covid Symptoms Assessment
The priority of the SEV Baseball Organization during the current COVID19 health situation is to focus on best practices to ensure the health and safety of all staff, players, coaches and guests that attend and participate in games, practices, tournaments sponsored and sanctioned by the SEV Baseball Organization.
It is mandated by the SEV Baseball Organization that all independent contractors who are scheduled to work must complete the following self-evaluation symptom assessment prior to reporting for duty. This self-assessment is mandated to be completed each time you are scheduled to work.
The self-assessment is to be completed by each person attending a game or practice on the day they are scheduled to attend a game or practice. If you have any of these symptoms you are not permitted to attend any SEV Baseball Organizations games or practices, and you're advised to consult your health care provider to prior to returning to any SEV Baseball Organizations activities.
The following 11 questions per the CDC are a list of symptoms that are part of this self-assessment. This list does not include all possible symptoms. CDC will continue to update this list as they learn more about COVID-19. For up-to-date information on symptoms of Covid-19 please click this link to the CDC, this page also has a link to the Symptom Self Checker.
Do you have any of the following symptoms:
1) Cough and/or sore throat
2) Shortness of breath or difficulty in breathing
3) Fatigue
4) Fever or chills
5) Congestion or runny nose
6) Repeated shaking with chills
7) Muscle or body aches
8) Nausea or vomiting
9) New loss of taste and/or smell
10) Diarrhea
11) Headache
For information on how to protect yourself and others please click 
here
for up-to-date CDC guidelines and information.